Adress: No.1136 Wanguan Road, Taian City, Shandong China Tel: +86 538 6613822 Email:
info@taishanasiafood.com
web: http://www.taishanasiafood.com
Introduction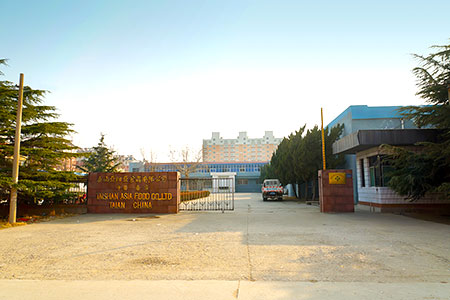 Taian Taishan Asia Food Co., Ltd, founded in 1992 and has been engaged in organic vegetables growing and processing since 1994. is located at the foot of Mount Tai, which is an ancient and magnificent mountain in China. Today our company has been a leading professional manufacturing enterprise that specialized in growing, processing and exporting of organic vegetables.
Possesses six organic vegetable processing plants,an organic prepared food processing plant, an organic black garlic processing plant,two affiliated companies
Taian Ziyang Food Co., Ltd
. and
Taian Solar Summit Food Co., Ltd
as well as a comprehensive in house testing laboratory.
It
covers a total area of 11.78 hectares and owns Cold Storage with capacity of 15,000 tons, and Constant Temperature Storage with capacity of 1,500 tons. Now the company has developed 1333.2 hectares of organic vegetable farms and the annual capacity of organic IQF vegetables achieved as many as 20,000 tons. The main products are frozen edamame beans, asparagus, leafy vegetables, root vegetables, broccoli/cauliflower, edible mushrooms, mixed-vegetables, dehydrated garlic/onion, fresh garlic bulb and peeled garlic etc., as many as 30 varieties. There are also organic prepared foods such as organic frozen spring roll, french fries and organic black garlic. Its head office is located in Taian city, Shandong Province and transportation is convenient to Qingdao port. Processing plants and farms are located in surrounding of Taian city. The organic vegetables are planted uniformly and standardly but delivered and processed respectively.Thus it avoids long distance transportation and simultaneously ensure the product quanlity.
Our company sincerely does wish to establish long-term and mutual benefit cooperative relationship with friends all around the world, to make contributions to the development of organic agriculture with our own strength! We will always do our best to provide safer and healthier organic foods to you.
Some of our customers and parterners: